we help customers
PLUG acts as a bridge between customers and businesses through one mobile app that gives you instant connection to exciting and exclusive events, deals and coupon offers that cannot be found anywhere else. PLUG is the ultimate shopping experience that offers convenience right in the palm of your hand.
Once you get plugged in, you have access to all the features on PLUG

Become a VIP everywhere you go

Enjoy Special perks and rewards daily

Build Loyalty Points with your favorite brands

Save money while living the lifestyle you want

Special Access and perks for Events and Parties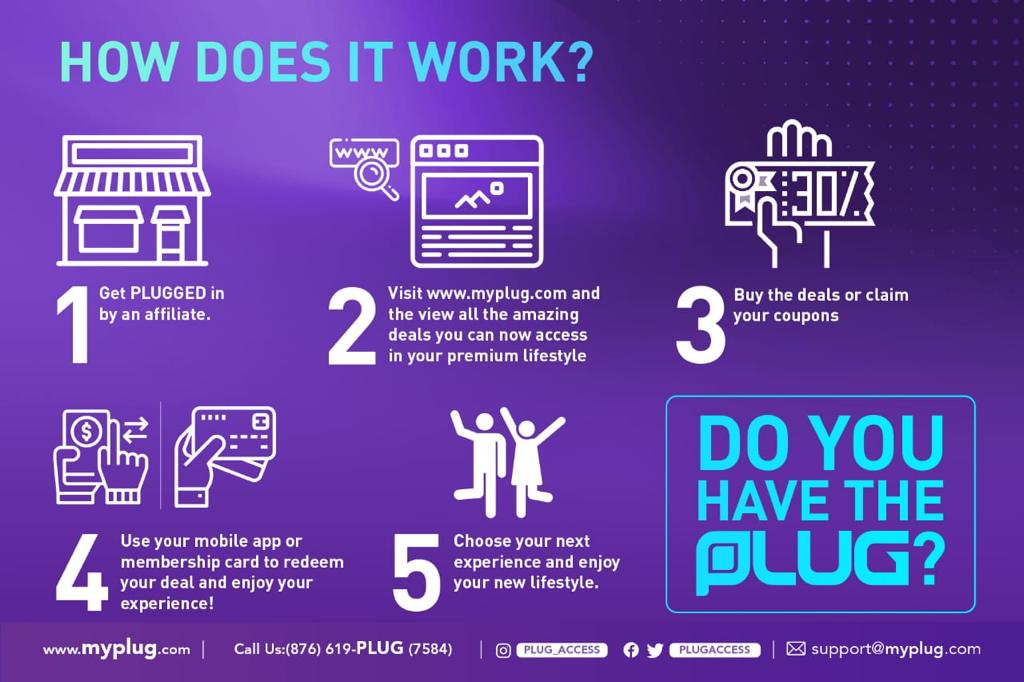 "Unlimited benefits anywhere you go"
What's required
To become a PLUG member you must be 18yrs or older and provide some basic information to get started.
Visit any one of our affiliates to become a PLUG member and get lifetime membership to their loyalty program, PLUS 6 months free access to all other affiliates and their deals on the platform. SUBSCRIBE AND PAY NOW TO GET AN EXTRA 1 YEAR FREE
After you have experienced PLUG at its maximum for this period you can choose to subscribe to continue accessing benefits from all our affiliates island wide.

Membership options
Our membership structure has three different levels; Classic, Gold and Platinum. The levels are determined based on customer monthly spending habits and their engagement with different products and services.
Each tier comes with amazing perks that regular customers would not have access to. Our aim is to add value to all our customers' experiences and make them feel special every time they take out their PLUG Card.
Classic
Yearly subscription $50 USD/year

Personalized access card

Access to coupons & extra perks

Up to 20% discount on goods and services
Platinum
Yearly subscription $130 USD/year
Personalized access card
Unlimited access to coupons and more extra perks
VIP access to events

Concierge service

Up to 50% discount on goods and services
Gold
Yearly subscription $70 USD/year

Personalized access card

Access to coupons & extra perks

Up to 30% discount on goods and services
Terms and conditions Apply